"FREEDOM ISN'T FREE."

Our uniformed men and women believe in and defend this statement on a daily basis.
Our brother, son, and friend-Corporal Christopher Kelly Willis-was the embodiment of military spirit and dedication, and we aim to preserve his memory by providing college scholarships to children whose parent was killed or permanently disabled in a combat zone.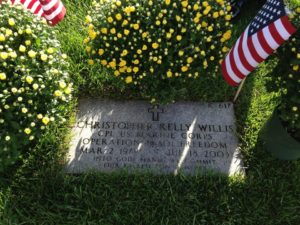 The Willis Foundation is committed to supporting the men and women of our armed services by providing "Great Rewards for Great Warriors."
The primary mission of the Willis Foundation is to fund college scholarships for children whose United States Armed Services parent was killed or permanently disabled in a combat zone.
These children have also made the ultimate sacrifice.

The Corporal Christopher Kelly Willis Foundation is a 501(c)(3) nonprofit organization that was established in 2004 in memory and in honor of a beloved son, brother, friend, and proud Marine.
The Willis Law firm donates all salaries and employee expenses to run the Foundation to ensure that public donations are directed towards the college scholarship fund for children of American Heroes.
To learn more about the Willis Foundation or to Donate, click here.